What makes The MultipleMind Method special

It is a complete system

It is a tried-and-tested process. It is more than simply an idea generation procedure.

It ensures there is clear and precise thinking at the start and hardheaded and pragmatic thinking at the end to ensure ideas are turned into reality.


It turbo-charges imaginative thinking

Most people and organisations are nowhere near as creative as they could or need to be. Creative thinking is an ability we are all born with.

But for many people the skill has gone to waste. Historically imaginative thinking has been much maligned in favour of logical thinking and analysis. These left brain ways of thinking have been seen as more important and better because of the way that our economy and the world of work has evolved over the last two centuries.

The MultipleMind Method reawakens and reinvigorates the powerful but dormant creative abilities that everyone has.

It is proven
This powerful approach brings together:

timeless wisdom and inventive thinking principles;
the attitudes and techniques used by history's great entrepreneurs, thinkers, artists and inventors; and
current scientific evidence on how the creative mind works.


Quite simply, it works ... every time

You cannot predict the exact outcome that will come from using The MultipleMind Method, but you can predict that it works. Eureka ideas will be originated.

It's similar to teaching someone to read and write. You can predict that the skills will be useful, but you cannot predict what they will write and read with the skills.
Return to top
The MultipleMind Method multiples mind power

Original and valuable ideas are rare. The odds on anyone coming up with a Eureka idea or solution are quite small.
However, you significantly increase the chances of coming up with a Eureka idea when you open up your mind with the two components of The MultipleMind Method and use:
the multiple thinking styles of your own mind – we call this Colourful Thinking
a multiple number of, and a wide range of, other people's minds – we call this Crowd Creativity
Return to top
What is Colourful Thinking?
These days many people spend the majority of their day thinking in a frenetic, fast-paced and superficial way.
For them, this kind of high-intensity and speedy beta wave thinking has become habitual and is a way of life. Beta wave thinking has its place. For example, when it comes to analysis and action-planning. But if you spend too much time engaged in it you feel tired and stressed. DayTime Thinking as we call it, is not conducive to generating ideas.



Slow, deeper and quieter forms of thinking are. As individuals, effective creativity comes adding other thinking styles into the mix. It's like thinking in colour instead of in black and white. Other colours of thinking are as follows.
The deep thinking which occurs when brain wave frequencies slow down and intensify. This happens when you sleep. We call this NightTime Thinking and it can be used to generate ideas and solve problems.
The insights and inspirational thoughts which come from theta wave thinking, which we call DayBreak Thinking.
The reflective and intuitive thoughts which come from alpha wave thinking, which we call DayDream Thinking.
Return to top
What is Crowd Creativity?
People have the ability to be extraordinarily inventive working on their own. However, each of us has a limited amount of knowledge, skills and experiences to draw on for inspiration.



Science shows that two or more heads are better than one. If, that is, the 'multiple minds' work together in a particular way.
You can't just assemble a group of people and expect a high level of creativity as a result. Anyone who has ever been to a business meeting knows this to be true only too well! Hidden agendas and antagonisms can immediately derail creativity.

There is a scientific basis to group creativity. We know from studies that certain conditions need to be in place for a group of people to be highly creative.
Crowd Creativity is the set of 14 attitudes and aptitudes for connecting and coordinating brainpower that will enable any group to collaborate effectively and generate a constant flow of original and valuable ideas.

One of these attributes is diversity. The greater the diversity, the greater the creativity. There are always different paths and approaches. The MultipleMind Method uses diversity in a very powerful way.
Return to top
The 7-Step Process
Great ideas don't manifest themselves in a random way. Creativity needs to be approached in a deliberate and purposeful way.



There are 7 steps in the MultipleMind Method. Each one builds on the previous one, so steps should not be skipped. Sequence is an important part of The MultipleMind Method.
There is a time and a place for each type of thinking. For example:
critical thinking is not suitable at the idea generation stage as it suffocates creative thoughts; and
critical thinking is required after ideas have been generated in order to assess them.
The initial steps lay the groundwork for later success. Blocks are removed and appropriate creative thinking techniques are identified.

Clarity is power but, too often, creativity efforts fail because the objectives are vague. The brain thrives when there is precision. It is a like a 'heat-seeking missile' so time is spent defining the creative challenge.
The aim of the rest of the process is to come up with ideas, evaluate them and to build plans to bring the right idea to fruition.
It is a powerful, inspiring, enjoyable, and mind-expanding expedition. Participants in the process escape their work-a-day world during these stages. Very often people mentally and creatively stagnate and feel burdened down. The MultipleMind Method removes the shackles and opens up their mind. They rekindle their creative spirit and get in touch again with their belief that wonderful things can happen. They become a fountain of new ideas.
Return to top
Ideation Groups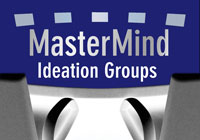 MasterMind Ideation Groups is a concept we sometimes use when we conduct innovation and creativity projects for our clients.

An Ideation Group is a way of injecting a huge boost of creativity into a project.

Colourful Thinkers is the name we give to members of the MasterMind Ideation Groups we put together. They are a diverse group of people. They vary in age, background, skills and thinking styles.
Some are predominantly left brain thinkers which means are typically logical, practical, and cautious. They focus on facts and figures, the present and the past and are good with words.
Some are predominantly right brain thinkers which means they are typically imaginative, emotional and focused on the big picture. They are often visual, impulsive and daring.
Some of our Colourful Thinkers balance their use of left and right brain thinking styles.
All of our MasterMind Ideation Group members are specially trained in an approach to group idea generation which we call Crowd Creativity.

What all Colourful Thinkers have in common is that they are fascinated by ideas. They explore ideas and are always curious as to why things are the way they are and how situations can be improved. They are always looking for connections and solutions. They are adept at looking at situations and problems in new ways. They bring energy and insight to idea generation and problem solving situations.
Return to top
Frequently Asked Questions
Surely you could be waiting forever for the right idea or solution to emerge?
The brain responds well to deadlines so time limits are often put in place. Big ideas can sometimes take time to emerge, however. It's almost as if these Eureka Moments bide their time until the effort has been put in.

How do you know if an idea that comes out of this process is the right idea?
You'll know! Illumination as we call it, is the Eureka Moment. There are three tell-tale signs that an idea or solution is 'the one'.

Isn't this just brainstorming by another name?
This is not a hit-or-miss assortment of bizarre or stereotypical creative thinking techniques like brainstorming. In fact, the brainstorming technique as most people understand it, is not even used at the idea generation stage of The MultipleMind Method process. It is not true that to have great ideas all you have to do is let your natural creativity out of its shell. There is much more to it and The MultipleMind Method includes the other dimensions to creativity.
Why is fun part of the process?
You can achieve more when people are inspired and there is a sense of fun involved. Creativity is triggered by these states of mind. There is a scientific basis to this.

For example, most humour is based your thoughts being taken along a familiar and logical path and then jumping off down unexpected and illogical path – and this is where the punch line appears. Creativity has the same basis as humour.
We're in the middle of an economic downturn. So surely creativity is a luxury and not a necessity in these kinds of circumstances?
It may be counterintuitive, but when times are tough the approach of pushing on instead of holding back has a greater chance of success. The MultipleMind Method works in any economy.

Whether you've noticed it yet or not, we've entered a new era in business history. In the west we're saying goodbye to the Information Age and we're welcoming the Inventive Age.

What is this period going to be about? In short, it is a time when creativity, innovation, design and empathy skills will become increasingly important. No less a figure than Alan Greenspan, the former chairman of the Federal Reserve Board, said as much in a speech as far back as 1997: "The growth of the conceptual component of output has brought with it accelerating demands for workers who are equipped not simply with technical know-how, but with the ability to create, analyze, and transform information and to interact effectively with others."

There is a wealth of evidence that innovation leads to increased productivity and huge competitive advantage.

Lets not forget what this is all about. Ideas and solutions. Its about doing things better. How can that be something you stop doing because of an economic downturn?
Return to top