Web Business Ideas
We are uniquely qualified to help you to create an idea for, build and then operate a web business
For almost a decade an a half our people have been helping web entrepreneurs to turn their ideas into viable businesses.



WIZWEB is our web idea generation, web design and development and online marketing service for businesses and organisations which takes advantage of our MultipleMind Method.
So many ideas for web businesses fail. This is often because the business owners know their business but don't know the web. That's no surprise because the Internet is a confusing place. Our experience and technical competence means that we know what works and we build that knowledge into every business we work with.
Our clients are often home-based or micro businesses. We offer unrivalled expertize and services so that they are able to maximize its huge potential.
If all you have at this stage is the germ of an idea we can help you in many ways including:
idea and product development

market research

business planning

raising debt or equity finance

website copy and branding
---
Technology partners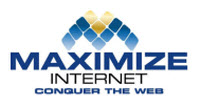 Through our relationship with
Maximize Internet
we also offer the following services:
website design and development

search engine marketing

social media marketing