Star 7 Ideation Groups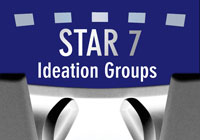 Star 7 Ideation Groups is a concept we sometimes use when we conduct innovation and creativity projects for our clients.

An Ideation Group is a way of injecting a huge boost of creativity into a project.

Colourful Thinkers is the name we give to members of the Star 7 Ideation Groups we put together. They are a diverse group of people. They vary in age, background, skills and thinking styles.
Some are predominantly left brain thinkers which means are typically logical, practical, and cautious. They focus on facts and figures, the present and the past and are good with words.
Some are predominantly right brain thinkers which means they are typically imaginative, emotional and focused on the big picture. They are often visual, impulsive and daring.
Some of our Colourful Thinkers balance their use of left and right brain thinking styles.
All of our Star 7 Ideation Group members are specially trained in an approach to group idea generation which we call Crowd Creativity.

What all Colourful Thinkers have in common is that they are fascinated by ideas. They explore ideas and are always curious as to why things are the way they are and how situations can be improved. They are always looking for connections and solutions. They are adept at looking at situations and problems in new ways. They bring energy and insight to idea generation and problem solving situations.

Would you like to be part of one of our Star 7 Ideation Groups?
You'll get paid to work with us on some fascinating projects.
The first step is to take our free online ITQ Test. This will tell you whether you are currently what we call a Colourful Thinker.